As a young man I often felt troubled when I heard older members testify, "I know the church is true" because I didn't know. Perhaps I questioned their sincerity as I silently questioned, "How can you possibly know it's true?" I often pondered, "Do I believe just because I was born in this church? If so, I could have been born in any church and would just believe, but I can't do that. I must know what is true."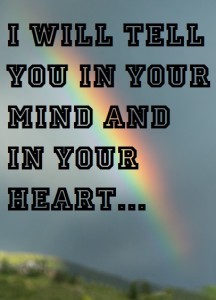 Rainbow taken from the Bountiful Temple
I hesitated to bear my testimony as a teenager because I couldn't say, "I know". I prayed and went to church and loved the scriptures, but I always wondered. I felt the Lord wanted me to serve a mission and received a call to teach the gospel in Japan. When I arrived there in one of my first interviews with my mission president I said, "President Ikeda, I don't know if I have a testimony." He looked at me and said, as best I can remember, "Elder Harper, of course you have a testimony. It is what brought you here and it shows in what you do." I had many spiritual experiences leading up to that point and felt warmth in his words. I decided I would testify of what I do know, and the Spirit moved me.
Some five years later I found myself back in Japan with a young family as a newly graduated engineer. We had a marvelous ward in Kawanishi that would all stay after church and share food since so many came from far. While we were sharing our families and food a young woman who was investigating the church told me (in Japanese, of course), "I just don't know if this is true." I responded, "Oh that is a wonderful place to be. I know that feeling, but I have found in my own life that increasingly it isn't a question of what truth is, but a question of am I true to what I know. Don't worry. In the Lord's time, the Spirit will tell you in your heart and mind what is true. Rather consider, when the Spirit tells me what to do, will I do it?"
I was so pleased that about a month later, this young sister chose to get baptized. She felt this was the Lord's will and had faith to act on that feeling.
Many blessings are contingent upon us acting on what we know. I never would have known the joy of missionary work without teaching the gospel. I didn't know the joy of being a father until I got a first taste holding a newborn. We won't receive the joy of knowing the Lord unless we have patience and faith to love and serve him. As it says in Ether 12:6, "… ye receive no witness until after the trial of your faith".
And so, if the journey seems long, remember, "…surely shall you receive a knowledge of whatsoever things you shall ask in faith, with an honest heart, believing that you shall receive… I will tell you in your mind and in your heart, by the Holy Ghost, which shall come upon you and which shall dwell in your heart." (D&C 8:1-2)  First be true to what you know.