Saturday night, our area was struck with high winds (about 91mph) and so early on Sunday morning I went outside and checked for damage. My home was fine, but there were several trees down, one of which was blocking the road. The wind was still blowing, but I was able to pull it off the road, and not knowing what else to do, I went inside.
We soon got a text notifying us that church had been cancelled and we were being encouraged to stay indoors to have sacred Sabbath time with family. Then we got a text asking us to check on our home teaching families. These are families we have a special responsibility to help. I love my home teachers and the the families I home teach so this was a welcome request.
One family I visit doesn't come to church but we are friends. When I asked if I could help with anything, he said, "Oh, I just have some branches down, but…" He stopped mid-sentence and said, "Hey, where did all the branches go?" I was too late, volunteers were already helping wherever they saw a need.
What had happened was our church hasmember volunteers called as emergency preparedness people. Early that morningthey had quickly organized people to cover the neighborhoods to see if everyone was alright. Volunteers at church with short wave radios and cell phones directed the crews with trucks and equipment to people who needed help.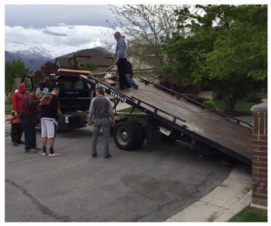 I had gotten out my chainsaw to help with my other neighbor's downed tree, but before I could even finish cutting it into manageable sized pieces, a truck and trailer had come and it was being loaded for the dump as fast as I could cut. I joined in with friends and we were directed to many homes needing help. We had wonderful interaction with many total strangers who we made some cherished memories with. I cut up a lot of trees that day… Others did much more.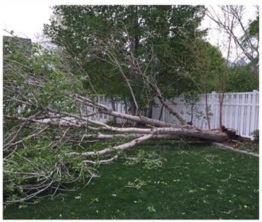 I really feel there was intervention in which trees came down. I saw many whose hearts were softened because of the sudden need and the warm response. I left this Sunday with a beautiful feeling that the Lord had wanted us to reach out to each other, and we had.
D&C 50: 24
That which is of God is light; and he that receiveth light, and continueth in God, receiveth more light; and that light groweth brighter and brighter until the perfect day.
Reach out, serve, love and live in the gospel and then in the 'perfect day' we will all share the same light!