This year I will participate in my first Pioneer Trek as the dance caller. In preparation I would like to share here some special faith promoting stories from a heritage I treasure.
My great grandfather Thomas Kay crossed the plains at the age of 16 with his mother Margaret.  Before that the Kays lived in Lancashire England. Margaret and her husband John Kay ran a public house in England, serving beer, crackers, cheese and other snacks.
There the missionaries and an Elder Ascroft of the Church of Jesus Christ of Latter-Day Saints helped convert the entire Kay family and John and Margaret became devoted members. The first to join the church was their oldest son Edward. He was an amazing young man who had already risked his life against the advisement of others to save his father, John, from a mining accident. Edward was also the first of the Kay children to migrate with his wife to Utah in 1853 to join the Saints.
Four months after Edward departed John died of consumption, leaving Margaret a widow with her remaining seven children, ages 6-20. This dear woman determined she would follow the counsel of the prophet to gather to Utah, and so a year after Edward left, and with financial help from the Perpetual Emigration Fund and a friend by the name of Houghton, she boarded a ship with her children and began her voyage to the United States. They sailed up the Mississippi River to the overland trail and made their way to Payson, eventually settling in Mona where they spent some years living in a dugout by a pond until a log cabin was constructed.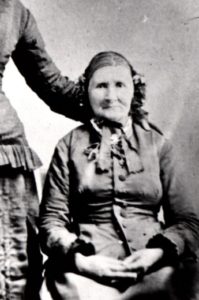 Margaret continued raising her children and became a midwife in the community and a home nurse. She served faithfully and was buried in the Mona cemetery. What does a family put on the gravestone to remember a woman like this?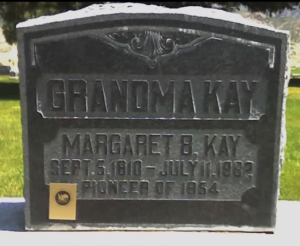 Thank you grandma! Thank you!