My Great Grandfather Christos Tsournos brought two of his sons to America where they labored hard in the Magna mines and for a time on the railroad. Christos then returned to Greece with his son's (my Grandpa Nick Chournos') entire life savings of $600.
This puzzled us, to think that a father would leave his sons basically stranded in a country to fend for themselves at such a young age. My grandpa was only 16 when he arrived.
A Greek specialist LDS service missionary for family history recently shed some light on this story. When she heard it, she said, "No, you have it all wrong. Christos was trying to save his sons, not take advantage of them." She told us that at the time Greece was in the middle of a string of wars. The Turks would often attack villages, kidnapping youth and pressing them into fighting against their own countrymen or be killed. When the young men were a recruit able age, they were pressed into fighting for the Greek army. Those who refused were sometimes killed in front of their families.
In this light, suddenly stories about hardships in Greece made more sense. I remember grandpa telling me that he was shot at once for picking an apple from a tree when he was hungry, but he didn't mention the political climate. He often told me, "This is a great country. There is no better country on this earth." Now I understand better why he said so.
My Grandpa Chournos could not return to Greece. He had no money. After years of hard labor, he began to herd sheep, and received sheep of his own for wages. He increased his herd and began homesteading to have range for his herd. Everything he earned, he put back into his business. He met my Grandmother on sheep business, when Grandma's dad had been too sick to go out, so Grandpa went to their home. They courted and were married, and spent their honeymoon at the Utah Wool Growers Convention.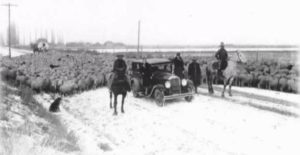 Trailing sheep between summer / winter ranges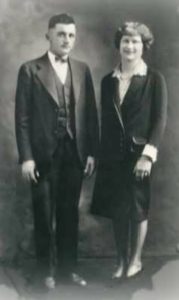 As a young married couple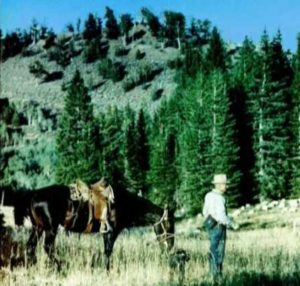 Eccles Peak, Monte Cristo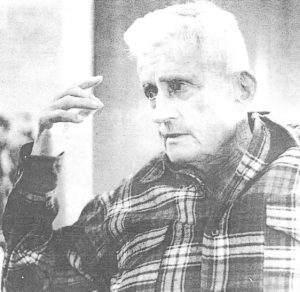 Interview picture from the National Geographic
Grandpa was an amazing and hard worker. In his life, Grandpa never did join the LDS faith, though he was supportive of my Grandmother's LDS faith. He was so devoted to his ranch work that I could hardly imagine him thinking much about faith, but he was also hurt when some 'member in name only' Mormons ignored his legal claim to ground he owned. His life was threatened and the uncharitable party told him openly that he would never have the ground because he was a foreigner and a non-Mormon. Thankfully, the courts, and more honorable Mormons serving there preserved the rule of law and Grandpa's claim prevailed.
There are many good men and women in his very large, mixed posterity. I learned much from this gruff man, who I worked for as a teenager. He had softened a lot in his old age when I knew him. He cared for his family as best as he understood how. I remember my sister saying how she didn't know how she could pay her college fees, when he suddenly, without knowing her situation he insisted that she take money that enabled her to pay. He knew poverty himself and didn't want any to suffer. I love my Grandpa Chournos, and his father Christos, different kinds of pioneers, but I claim them as part of my pioneer heritage. They prepared the way for me!