One Sunday morning I was conversing with my wife when I stopped midway through a sentence and I said, "I need to go talk to a friend." I didn't know why. As I approached the home I saw my friend sitting on a chair on the side of the road with his head down in utter dejection.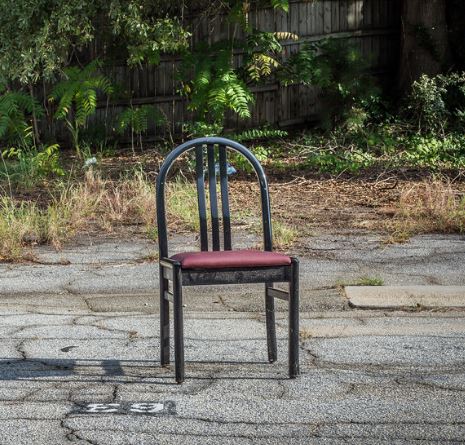 I had first met him just a few months before, and only knew who he was because I had a strong impression to walk home from church on a prior Sunday. I had met him at nearly the same spot. Because I wear my service missionary name-tag on my suit he soon understood my calling was to help with addiction recovery. At that time he had opened up to me that he was trying to overcome a substance abuse problem and I had gladly offered encouragement and resources that could help him and give him hope. Now I was without words. I sat next to him in silence because I could see he was heartbroken. Seeing me in my Sunday best, he said, "I don't want to keep you. You are busy." I responded, "I left home early to talk to you, so I am busy doing what I intended." It turned out that he had been dishonest and taken things from the family that had taken him in, in order to feed his addiction. On several occasions he had broken his word and the family finally had to tell him he could no longer stay. He had nowhere to go.  I sat with him and told him I cared, with my own heart breaking. He wondered out loud what would happen. I told him I didn't know but would do my best to help. I got his number and before the end of the day had connected him with a bishop and elder's quorum president, along with a potential referral to the Deseret Industries where we could get him a job coach. This helped start forming a bridge for a dear, struggling son of God.
These stories are difficult to share in an open forum because personal revelation is… personal…
I believe the key to receiving revelation is obedience. It is our real intent to do whatever the will of the Lord is when he makes it known. When we are obedient to what we receive, we are given more. God could prove himself to us at any time, even in our rebellion, but he is not a man that needs to prove himself. He could open the Heavens and show us marvelous things but rather He waits for us to seek Him, and then the personal revelation comes, most often very quietly. If we bend our will to His, and don't let doubts dry the dews of inspiration that the Lord puts in our hearts and minds, we will come to recognize and know His Spirit.
I remember consulting with a former bishop about an event that I had failed to attend that troubled me. He began telling me it was alright, when I interjected, "You don't understand. I was supposed to be there." A sudden understanding flooded his features and in a rather subdued tone he said, "I know what you mean."  I sensed a pain in his soul that matched my own.  This man of profound spiritual experience had the same poignant feeling because there is always a blessing in the balance when the Holy Ghost is whispering for us to act.
Personal Revelation and Personal Purity
Personal revelation is a necessary condition for redemption of each of God's children and is no less important for addiction recovery. When the Lord said to pray, "Lead us not into temptation", he really did mean that he would lead us if we would listen.
Step 11: Seek through prayer and meditation to know the Lord's will and to have the power to carry it out.
God's miracles rarely happen the same way twice, and so too the escape path from falling in sin often differs. When I hear men say, "I don't understand it. I have been doing everything I'm supposed to: scriptures and prayer every morning, but the temptations are even worse."  Scriptures are critical to our life's foundation, but what is powerfully reinforcing, at one time may feel contrived or simply be too passive at other times. You can't distract an addiction on a false pretense. At times like this the Spirit may tell us that the escape path is to go jogging. It may encourage one to temporarily give a personal electronic device to a loved one for safekeeping. It may whisper to give service to a neighbor. This is why the Spirit's whispers are so crucial.
There hath no temptation taken you but such as is common to man: but God is faithful, who will not suffer you to be tempted above that ye are able; but will with the temptation also make a way to escape, that ye may be able to bear it. 1 Cor 10:13
The Spirit will always lead us out of temptations grip if we are willing to listen and follow, but we need to really desire deliverance and we need to seek it humbly in prayer with our whole heart. Welcome to Step 11 in our personal recovery: personal revelation.
Most of the time I find the personal revelation that comes to me is to serve others, but that is Step 12… the final step of the recovery program.