Chad Hymus put on a special fireside Jan 15 in Farmington specifically to bless those overcoming personal challenges using the atonement. The fireside was organized by the Davis County LDS Addiction Recovery Program.
It was the result of a 'chance' meeting between our mission coordinators, Kent and Donna Jones and Chad at a restaurant. When he understood the addiction recovery work going on, he gladly offered, "I need to speak to your group." It was quite an opportunity to have a nationally renown speaker.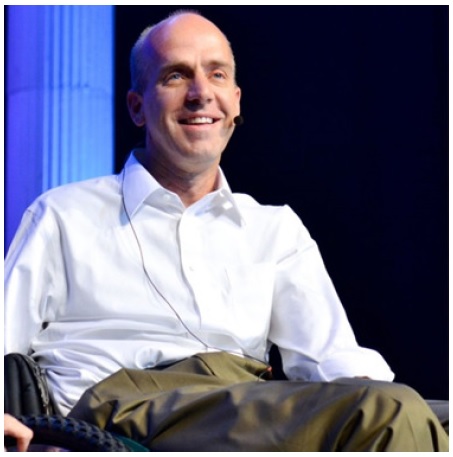 It is difficult to capture the things I always want to remember from this fireside, but here are a few:
#1 – Be proactive. Listen to the Spirit. When you see someone who needs help, don't sit and think about it, just do it. Many are called, but few do it.
He used the example of a volunteer from the attendees that he had try to drink from a water bottle without using his hands. At the end he made the point. "I've tried to teach about being proactive for 30+ minutes, but I've failed to make the point and that's my fault. Did any of you feel like you should have gone to help him?" Some did feel that, but none did.
#2 – Few people remember what you say but people do remember how you make them feel.  He borrowed a man's cell phone and had him send his wife a loving text during the meeting. It was all about him thinking of her without the words, "I love you". He said, "She will feel that love without the words because in his text to her, you will notice he never used the word, 'I'. When I wasn't teachable in the hospital, it was all about me. I will never walk again. I will never play ball with my sons. I won't be able to be a good husband. Get rid of 'I' and get to you and us. Small 30-second messages can make all the difference".
#3 – Change your habits. The number one cause for death among paraplegics is that they get pressure sores. For him, he had to give up boots, which was a big deal because he was an elk rancher. His father explained he would retain water in his feet, so he would have to get shoes of a style he was unaccustomed to, get them one size too big and put them on using his mouth. "It took me 2 1/2 months before I tried, and another 2-months to master it."
Story:
The day of his accident, he was on his way home to see his son who his wife had just informed him had just taken his first steps. He stopped at his elk ranch to put out a 2500 lb bale of hay, but ignored a hydraulics warning light. "I had grown accustomed to it being okay, so I didn't refill it." The hay bale was lifted when the hydraulics failed and came down with crushing force. His wife first thought he had died. At the distress call 5-cowboys, state troopers and a paramedic arrived. 8-men in all released him from the pinning weight, bearing some 360 lbs apiece.
He woke up from a coma some 3+ weeks later and began a difficult recovery. His father at first could help him little until he became teachable. Then a visit from the apostle Neil A Maxwell helped pull him out of his deep stoop he was in with some pointed questions that helped him remove his real paralysis. It is a tragic and inspiring story.
We were deeply touched that he got his fourth child just yesterday – a little boy from Ethiopia that they have been trying to adopt for four years.
Chad Hymas Links: