I sang to both of my grandmothers as they were dying.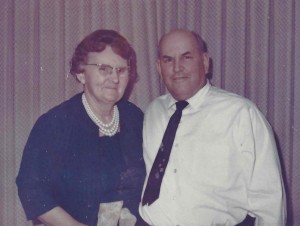 My dear Grandma Harper had suffered a stroke and could no longer speak, though her eyes were full of emotion. In the hospital, I felt embarrassed to start singing, "A Poor Wayfaring Man of Grief" to her with my sister, but we did and suddenly what the world thought didn't matter anymore. The Spirit filled the hospital room.
… He asked if I for Him would die,
The flesh was weak, my blood ran chill,
But the free spirit cried, 'I will'
Then in a moment to my view,
The stranger started from disguise,
The tolkens in his hands I knew,
The Savior Stood before my eye
He spake and my poor name he named,
Of me thou hast not been ashamed,
These deeds shall thy memorial be,
fear not thou didst them unto me.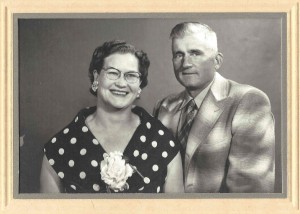 My Grandmother Chournos loved music. She was my primary pianist when I was a child. She was on her deathbed and too weak to turn her head to see who had come. My mother asked if there was something we could sing for her and she asked my mother, daughter, sons and I to sing, "the hymn about the Garden of Eden." We looked at each other, initially not knowing which song she meant. Then it hit me, "She wants us to sing, 'Now Let Us Rejoice' ".
Now let us rejoice in the day of salvation
No longer as strangers on earth need we roam,
Glad tidings are sounding to us and each nation
And shortly the hour of redemption will come
When all that was promised, the saints will be given
And none shall molest them from morn until ev'n
And earth shall appear as the Garden of Eden
And Jesus will say to all Israel, "Come home!"
My Savior was taking her home. Grandma was too weak to wave, so I touched her hand and said my 'goodbye'.
These hymns were equally important to my pioneer ancestors. Oscar Winters was a pioneer who once told Heber J Grant, "Heber, I believe that the young people of Zion do not thoroughly appreciate what Brother Clayton's hymn meant to us, as we sang it, night after night, crossing the plains. … I want to tell you an incident that happened as I was coming to the valley. One of our company was delayed in coming to camp. We got some volunteers, and were about to go back and see if anything had happened, … when we saw him coming in the distance. When he arrived, we unyoked his cattle and helped him to get his supper. He had been quite sick and had to lie down by the road, a time or two. After supper he sat down on a large rock, by the camp fire, and sang the hymn, 'Come, come, ye Saints.' It was the rule in the camp that whenever anybody started to sing that hymn, we would all join with him; but for some reason, no one joined with this brother. His voice was quite weak and feeble; and when he had finished, I glanced around, and I don't believe there were any of the people sitting there whose eyes were tearless. He sang the hymn very beautifully, but with a weak and plaintive voice, and yet with the spirit and inspiration of the hymn. The next morning we discovered that he was not hitching up his oxen; we went to his wagon, and we found that he had died during the night! We dug a shallow grave and laid his body in it. We then thought of the stone on which he had been sitting the night before when he sang:
"And should we die before our journey's through,
Happy day! All is well!
We then are free from toil and sorrow too,
With the just we shall dwell.
But if our lives are spared again
To see the Saints their rest obtain
O how we'll make this chorus swell—
All is well, all is well!
"We then rolled that stone over in place as a headstone for his grave."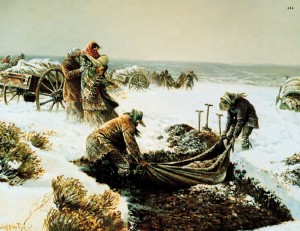 The Lord has said, "The song of the righteous is a prayer unto me, and it shall be answered with a blessing upon their heads." I am overwhelmed that I am able to offer this prayer with all of you. Thank you for your love, prayers, talents and this your sacred offering.
Brother Harper – given as a thought at a youth practice for a Pioneer Trek Fireside