A tear formed immediately when I heard, "Brother Harper, we are extending a release to you from your calling as a primary chorister."  I felt my heart would break, though I should have been ready. I had an impression it was coming. For two years I had taught songs to our little children, making a whole library of visual aids in the process. As we sang we made temples out of pyramids, saw the clouds at the Savior's death rain down hope on a tiny seed, went on imaginary safaris, and played lots of games.
"You've done a fine job, but when we saw you volunteered to serve in the temple, we felt we needed to extend the primary call to another. We have a large ward with 27 people we just don't have callings for." When he told me the sister they were calling in my place, I couldn't help smiling. She has a handicapped son with an infectious smile borne from a heart brightened by a loving family. This sister would be wonderful! The primary children were in for a treat.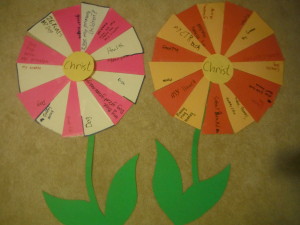 I learned so much from these little children. I learned to reciprocate their bright, caring spirit. I found they love stories and trying new things. I learned they have a deep desire to do what is right. I learned that they have a very natural love for our Savior, Jesus Christ. With them, I learned of eternal families.
In the nursery while teaching songs to the 2 to 3 year olds, I always knelt in front so they could see and hold pictures and objects related to the songs. Once a little child unexpectedly came and sat on my lap and then looked up and kissed me on the cheek. My spirit was touched. "This simple, unconditional love," I thought, "must be what Heaven is like."
And so, I miss my primary children, but I got a glimpse of why Jesus said, "Except ye be converted, and become as little children, ye shall not enter into the kingdom of heaven." (Matthew 18:3)